Respite Care
Caring for an Ageing Loved One? We Can Help!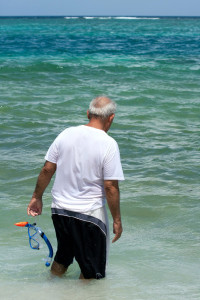 Many times, caring for a client involves family, so Aquamarine Personalised Home Care can also play a role in providing "respite care" for the family caregiver (i.e., a wife caring for a husband or a daughter/son caring for her/his parents). Constant caregiving can bring considerable stress, because the caregiver's focus is centered on the one needing care. Very often, we see that when we give relief with daily routines, allowing the family caregiver(s) more time for themselves, the relationship strengthens.
In the 21st Century, the demands placed on family and other informal caregivers continue to escalate, and will eventually affect nearly every Australian family. It's everyone's greatest fear: a parent starts to forget things…they become bewildered, confused, and angry…finally, they can't take care of themselves and need full-time care. Adult children are increasingly faced with their biggest nightmare – parents who are as helpless as young children.
If you find yourself caring for an ageing loved one, you are not alone!
Aquamarine Personalised Home Care can help you by providing
So if you are a family caregiver in needs of some help, don't hesitate to contact us. You can talk to us about your unique situation, schedule a free in-home assessment, and be well on your way to a happier, healthier life for you and your loved one.
Hi,
I was at GCUH on Wednesday morning with my Mother for an appointment.
I witnessed one of your staff who was looking after a client called Nadia.
I didn't catch the staff members name but just wanted to let you know she did such a beautiful job of looking after her client. Her client was quite obviously very anxious and your staff member calmed her down and distracted her and did such a lovely caring job.
We often hear complaints with regard to providing services but its not often that people take the time to commend great work and your carer definitely deserves the compliment.
Thanking you
Nadia
Gold Coast
November 27, 2020
Dear Aqua Marine Care,
I thank you for Anita and her service since I started services with you.  I request that I maybe able to use her next year please; after I complete my course since she helps do what I need for myself. Your service is exemplary and very good. You allow me to do for myself what I cannot do on my own.  I wish to continue services with you into the future.
Yours Faithfully,
Mr Clarke
Wonoona NSW 2517
Mr Clarke
November 2, 2020
"Aquamarine has been absolutely fantastic. I am really thankful for all the support I have received as it really, really helped me."
M Mason
Tweed Heads NSW
August 3, 2020
As a side note, I've not worked with another provider so far who has been able to be as flexible as Aquamarine. I know the challenges with organising rosters so I wanted you to know how appreciative I am that you've been able to accommodate all of these changes to support Lee.
Lee
Gold Coast
June 5, 2020
Owen's world is so much brighter with Laura's support. I'm so grateful you matched us. He glows after she's been.
Mrs Browne
Tweed Heads NSW
May 22, 2020
Thanks Billie
Aquamarine workers have been truly brilliant and I have no doubt that both Robyn and Max are ever so grateful and would not have made it this far without the supports provided.
Thank you for the quick reply.
Regards
Robyn & Max
Mudgeeraba Gold Coast
May 8, 2020
I just want to say thank you for sending Sandra to me for every Tuesday, 11am.
She is an absolute gem. I have had a different worker each time for ages and was so tired of having to start all over each time. We have a very big house and Sandra and I have worked out a process that will see our home gleaming within 6 weeks. Then its going to be just a matter of methodical weekly maintenance. Beds every 2nd week.Thank you so much for such a great person and please tell her that we think she is the ants pants!
Bron & Bruce
May 4, 2020
Hi Gemma,
I took a call from Carer Megan Logan. Aquamarine have been supporting her and her Dad – Palliative Care.
She called to say that the care she has received from Aquamarine Personalised Home Care has been outstanding and so thoughtful and communicate so well with her whilst she has been caring for her terminally ill Father.
Megan stated that Aquamarine (SW Mary Anne) and the staff at CRCC have made her Palliative Care journey empowering and that she has become a stronger person because of the support. She feels she can trust and have the confidence to the end of her Dads time.  J
Megan
Gold Coast
April 26, 2019
I just wanted to send a note to compliment your team on the prompt and caring service last weekend. We needed help for Dad at the last minute when Mum was admitted to hospital after a fall. Your office team arranged a carer to be there within the hour and kept dad safe for the next 27 hours until we could arrive from Victoria. We don't know what we would have done without you. Thank you for the wonderful service, great work.
Joanne Page
Byron Bay
April 18, 2018
Thank you for sending Jenny to look after Mum for the past two months. She is fabulous and very caring and mum feels very comfortable with her in their home.
Mrs M Beddoes
April 17, 2018