According to Austrade, more than one million older Australians currently receive some form of aged care and support services every year. Funded by government subsidies and grants, user contributions and volunteer care, these valuable community services have created various levels of quality and highly regulated care, many enabling older people to stay in their own homes for longer.
In fact, in 2012, the Commonwealth Government launched its Living Longer, Living Better reform package, which pledged more than AUD$3 billion over a five-year span towards improving the aged care system. Recent government budgets have further boosted funds for in-home care, flexible care and respite care. (Did you read about the changes that came into effect in February?)
Regulating the aged care system in Australia
The aged care system in Australia, which has been in place in one way or another for over 60 years, is considered one of the most thoroughly regulated and monitored in the world. We have a dedicated Minister for Ageing (currently The Hon Ken Wyatt AM MP) and legislation that provides a national quality assurance agenda for residential aged care. This includes:
Building and infrastructure certification
Accommodation bonds, fees and charges, and the income and asset tests that are used to determine when they are applied
Accreditation of facilities
Formal reporting requirements
Ongoing research in these areas ensures world-class care is offered to the older members of our community.
Regulating in-home care and residential services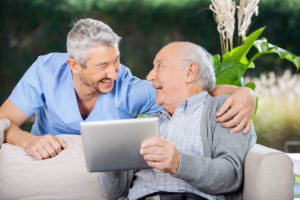 Aged care in Australia involves more than residential aged care. As we know, most of us prefer to remain at home as we get older, surrounded by the things we love and the people who love us.
Today, a wide spectrum of services can be customised to individual needs, allowing older people to maintain their freedom and independence for as long as possible.
This is made possible by the registered and enrolled nurses who currently work in the aged care system. Registered nurses are trained at degree level with many Australian universities also offering postgraduate diplomas in senior nursing. Enrolled nurses train in the Vocational Education and Training (VET) sector.
Australia has developed a sophisticated framework to deliver multiple levels of regulated home care to its ageing population and is investing strongly in resources and initiatives to support older people, carers and families.
Would you like to know more? Then please call Aquamarine Personalised Home Care on 1800 458 499.