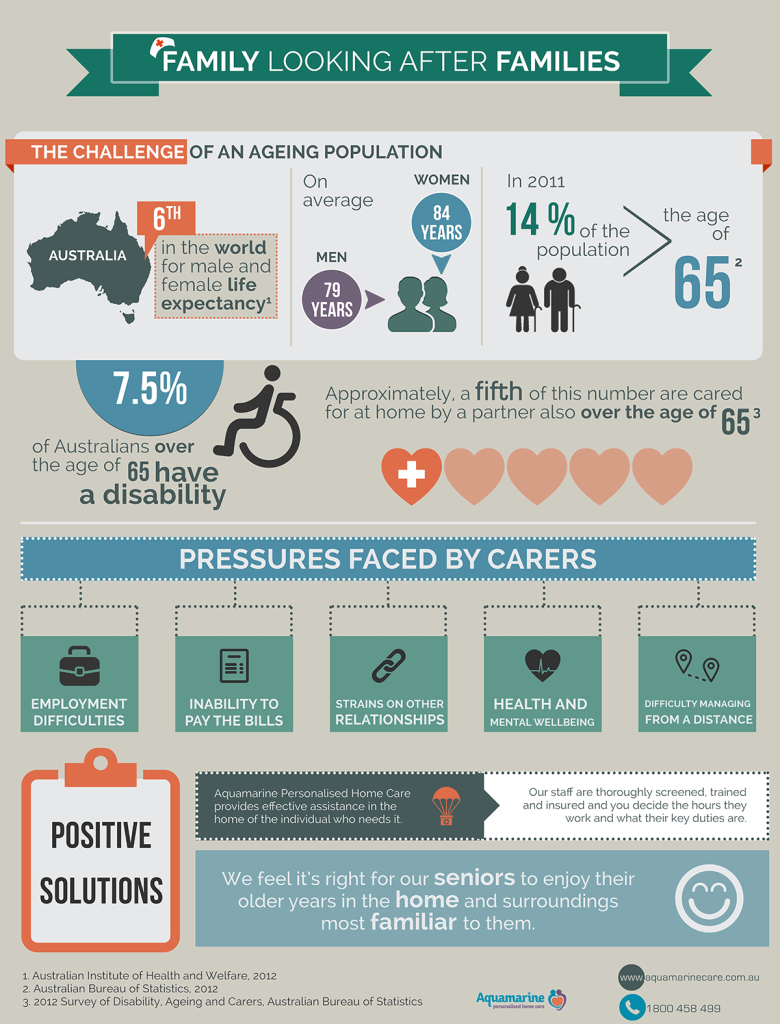 Family looking after Families
Introduction
Did you know that around half of Australia's older population (1.7 million or 7.5% of Australians over the age of 65) have a disability? Approximately a fifth of this number are cared for at home by a partner also over the age of 65. The majority of aged care is provided by people in the 45-64 age bracket, caring for a parent or parents either living with them, or – in many cases – in the recipient's own home. (2012 Survey of Disability, Ageing and Carers, Australian Bureau of Statistics).
Brian Farrell owner and manager at Aquamarine Personalised Home Care a Northern Rivers based family owned business takes a looks at the (often sadly overlooked) role of the full or part-time carer. He also outlines how the service he provides can make a vital difference to the carer's quality of life as well as helping their aged parent or partner continue to live in the comfort of surroundings they are most familiar with.
The challenge of an ageing population
Across Australia, improved standards of living, better medical care, lower fertility rates, and the population growth of the post-war Baby Boom have made a huge difference. In 2011, 14% of the population was over the age of 65, compared with 4% at the beginning of the twentieth century (Australian Bureau of Statistics, 2012). Furthermore, Australia stands 6th in the world for male and female life expectancy (Australian Institute of Health and Welfare, 2012). On average, men now live to 79 and women to 84, and these figures represent an upward trend.
The Australian government is very aware of the increasing number of people who devote a quite substantial amount of their time to caring for others, and a wealth of information is available on regional and national government websites, including a whole section on the Department of Health website, where details can be found about the National Respite for Carers Program, as well as publications on specific carer-relevant topics.
Pressures faced by carers
Taking on the role of carer, whether it is a full or part-time commitment, can often be a very sudden transition influenced by factors outside of anyone's control, such as life-changing illness or disability. A parent, grandparent or partner who might previously have been very capable of looking after themselves may now find certain tasks far more difficult or impossible to do unaided. Equally, the need for home assistance may be more gradual, with the care recipient only requiring help in small measures to begin with but accumulating over time.
No-one likes to feel that they're a burden to others, but in life there are times, often associated with advancing age, when it is no longer possible to manage on your own. And family members or close friends are the first to recognise this. They want to help the person they care about which means providing care unconditionally. However, this can have repercussions for the carer which we touch on here, to acknowledge the pressures that selfless commitment can sometimes bring to bear.
Employment difficulties. If the carer is trying to hold down a full-time job but needs to have flexibility throughout the day to provide home care assistance, this may start to have an effect on performance at work and how their employer perceives them.
Unable to pay the bills. Carers who do not have a job because they are engaged full-time in providing care can be entitled to government benefits, but these do not go a long way in meeting the cost of living.
Strains on other relationships. The primary carer may have other family or personal commitments which begin to take a back seat, resulting in conflict with others that never gets properly resolved and could lead to marital and friendship breakups.
Health and mental wellbeing. The carer might try to keep everyone happy, putting on a brave face as they try to honour all commitments that come their way. This could result in fatigue, disturbed sleep patterns, high blood pressure, migraines or.
Difficulty managing from a distance. In today's world, different generations of a family may live quite far apart from one another. If a parent or grandparent needs assistance, this can mean a lot of travel, staying away from home for extended periods.
Positive solutions
Are you a carer, recipient of home care, or a friend, family member or employer viewing things from the periphery? If so, it's possible you'll have recognised and identified with some of the common scenarios mentioned above. As we said at the beginning, it's important that people don't feel they're alone in this, as there are solutions that can help everyone. The service Aquamarine provides is one of those.
Aquamarine Personalised Home Care is a professional company that prides itself on high standards of care, providing effective assistance in the home of the individual who needs it. Our staff are thoroughly screened, trained and insured and you decide the hours they work and what their key duties are. We appreciate there is a bond of trust to be formed, which is why we give special attention to matching caregivers with clients to achieve the utmost compatibility.
A local business here in the Northern Rivers, Aquamarine was established with core principles of quality care in mind. We've been there ourselves, with parents and grandparents of our own, and we feel it's right wherever possible for our seniors to enjoy their older years in the home and surroundings most familiar to them.